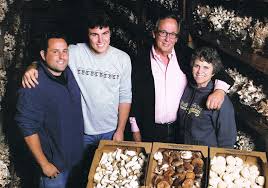 Recording of LIVE show 2/19/20 =  KSCU 103.3 FM 
My first guest of 2020 this week are the founding family of The Far West Fungi Co. LIVE ! Tune in this Sunday, Jan 19th, 6-7 PM PST / 9-10 PM EST on my Food Talk Radio Show on KSCU 103.3 FM Santa Clara in Silicon Valley - this week on Sunday Suppers. Food Talk Radio with Chef Gigi, meet the whole Garrone family - founders of, Far West Fungi Company.They are in the studio chattin it up about their premium focus on organic, high-quality cultivated, as well as wild foraged mushrooms and their journey to being the best! We chat about the new technology and grow mediums in their new Santa Clara farm. The families new Santa Cruz store front that opened in October, 2019 which now serves mushroom takeout--- yes, you heard me right!
But most importantly, Kyle Garrone fills us in on the devastating turn-of-events that is currently threatening our mushrrom food supply for the gain of big industry financial growth at any cost. Learn how the United States goverment lableing loop holes could affect your health and why Canada has ban mushroom substrats from China! 
Far West Fungi Click link to Learn More: