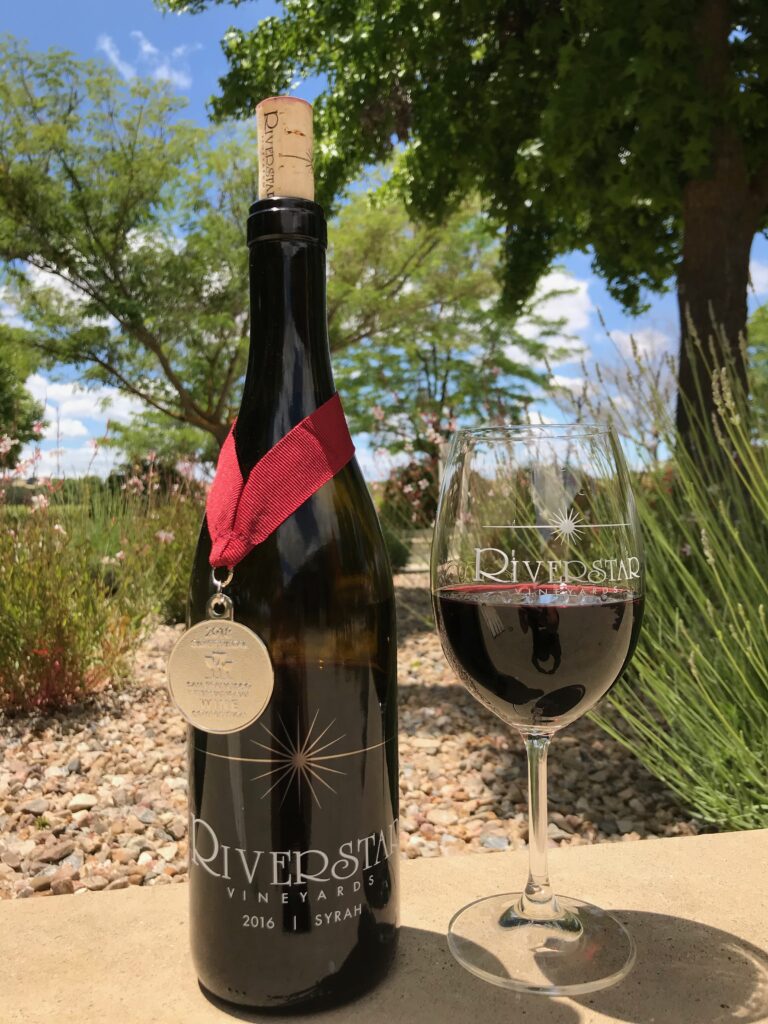 Sunday Supper, Chef Gigi's Food Talk Radio on KSCU 103.3 FM Santa Clara host Angela Reinertson, owner of Riverstar Vineyards- someone everyone loves & wants to be like! Angela is fun loving, warm-hearted and draws you into her magnetic, effervescent personality- it's really no surprise she is the now mastermind of Riverstar Vineyards! Listen in as she gives us all the details on her new venture with crackin monthly music events, a vacation house on site, oversized games for visitors to includes a life sized Yatzee and Wine Pong games next to the tasting room and grassy knoll for Picnics and BBQ's what more does anyone need? Riverstar has something for everyone! Mention Gigi or KSCU 103.3 FM and recieve 20% off this years harvest. 805-467-0086 
Riverstar, is a gorgeous 80 acre boutique, family-owned and operated winery on the Pleasant Valley Wine Trail just east of Paso Robles in San Miguel, California. With over fifty-eight of those acres grapes, they make some of the most delicious Central Coast blends from Cabernet Sauvignon, Sauvignon Blanc, Zinfandel, Merlot, Syrah, and Petite Sirah. Don't miss this!
Music By:
Holly Hofmann: Track- Minha, off the album: Minor Miracle, Capri Records released in 2004.
Stanley Turrentine: Track- Lets Grove, off the album: Stan "The Man " Turrentine, Time Records released in 1960.
Benny Goldson: Track, Staccato Swing, off the album: Gone with Golson, Concord Record label Re-Released in 1994.
Holly Hofmann for our Background Music: Track, Kaper On Green Dolphin Street, Off the album: Tales of Hofmann, Azica Record Label released in1995.
Hurbert Laws : Off the album: The Rite of Spring, Track-Brandenburg Concerto No. 3 Second Movement, Epic Legacy Label, released in 2002.
Russell Malone: Track, Sweet Georgia Peach, off the album by the same title, Universal Music Mexico record label released in 1998.
Closing the show with Holly Hofmann: Track: Everything I love off the album Minor Miracle , Caprie Records 2004.
#WomenInWine #Winemaker #FoodTalkRadio #ChefGigi #RiverstarVineyards #WomenOfWine #SupportFamilyBusiness